According to Google, at least 97% of first time visitors don't convert and most of them will forget that they ever visited your site at all. Re-marketing allows you to keep reminding these visitors of your brand as well as aggressively pitch to them by offering tempting discounts and free services such as delivery.
The Google Display Network lets you create static and dynamic adverts which are automatically branded according to your website's themes and colours. It's essential that you allow yourself time to create high quality ads, since they will be key in attracting attention.
It's important not to over use this re-marketing strategy as your audience may feel haunted or even stalked by your brand, so setting a time limit of up to 2 weeks is highly recommended. If a visitor ignores your adverts for 2 weeks without conversion then it's safe to assume that they are no longer interested and to save the ad budget for other visitors.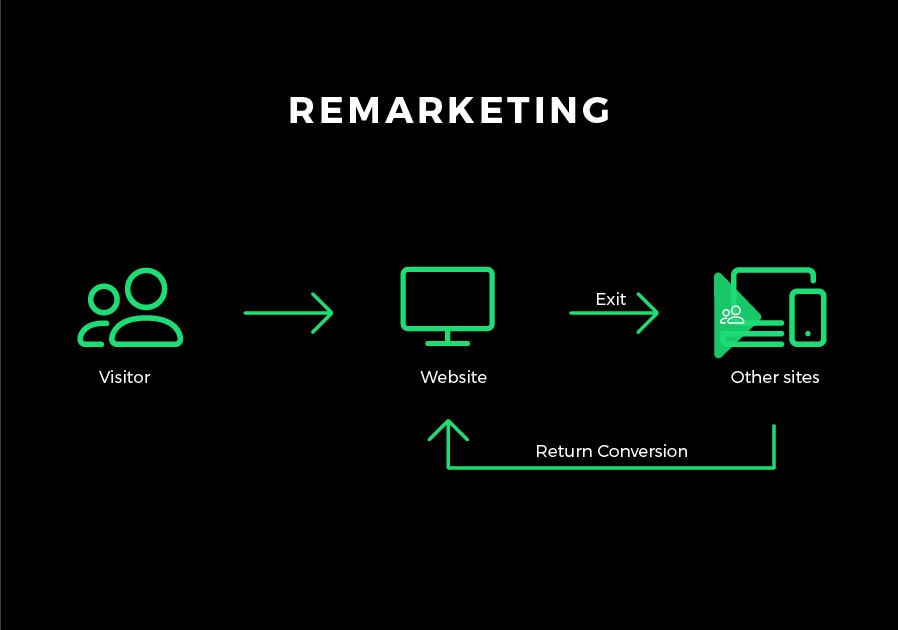 Remarketing
• Geo-targeting - Re-marketing lets you segment your audience in many different ways. For example, re-marketing banners would target past visitors within the local area, this would be ideal for fast food restaurants, DIY stores, and dry cleaners etc.
• Provide information to convert - Someone who goes to your contact page, then leaves, could be a customer in waiting. The best way to re-market to that person is by showing them banners which display the customer service phone number or redirect them to the contact page.
• People have habits, so think long term - If someone bought a valentine's bouquet from you in February, that person will probably (well, hopefully) look for another one the following year. Make sure you are fresh in the mind of a repeat purchaser, no matter how long it takes for them to return. This is why year on year analytics provide more insights than month on month analytics.
• Focus on specific items or services - If a customer wants a specific product, you can set your re-marketing banners to display images of that particular product. This can be achieved by setting up the product URL with customised banners which are set to trigger whenever a visitor visits that particular URL. Generic images in banners don't convert as well.
• Encourage repeat orders - Capture customers who have confirmed an order, then re-market a different but related item to them later. Simply place the re-marketing code on the order confirmation page to capture them at the end of checkout. A good example would be whenever a customer buys an iPad; the re-marketing banners would market iPad cases and accessories compatible with that particular make and model. These banners would appear before the payment section of the checkout process in order to increase order values.
• Take care for existing customers - Boost loyalty by placing a cookie when someone logs in to a members' area, then re-market to that segment to encourage future spend. Vouchers, discounts and coupon codes work well.
• Optimize, optimize, optimize - Just because you are re-marketing, don't give up on converting through the first click. Your landing pages should still be A/B tested and tweaked so that you always have the best shot at success. Even if re-marketing banners bring back visitors, the landing pages still need to convert these to customers.
• Pick up abandoned carts - If someone got very close to purchasing, but backed out, capture them with re-marketing and remind them to complete the purchase. This is usually achieved with single use discount coupons and free delivery offers.
• Don't follow people forever - Many people researching products will convert, but they may not become your customer. The exception here is in seasonal purchases, where you can display an ad at a relevant date in the future. A great example is Valentine's Day greetings cards; If a customer buys a card from you, re-marketing banners can be set to first appear in 11 months and 2 weeks' time.
• Don't re-market once converted - Smart marketers don't try to sell one person the same thing twice. Re-market a related item. Set the banners to stop appearing for a particular cookie once clicked on or once they visit the "Thank you for your order" page.
As you build a re-marketing strategy, focus on two key areas: awareness and loyalty. Re-marketing buys you a second chance for conversion. Like any kind of advertising, it can be expensive if poorly targeted. Work through these tips before you dive in.
Get in touch
Find out more about our digital marketing services by emailing us at hello@fingo.co.uk, or give us a call on 01372 749 200.